Geeta Shirkar, 35 years old was diagnosed as a case of renal failure when she was a 24 years old. One after the other her both kidneys failed. Geeta didn't give up and took dialysis, the only option left for her in order to survive. She started approaching charitable organizations to get the funds for dialysis. Geeta's family consists of 7 members including her old parents, a brother, his wife and two children and total family income (that of Geeta and her brother) is Rs. 8000/-. Geeta was working in the farm, which she had to leave on account of constant health problems and need to continue to seek assistance for dialysis in order to survive.
In December 2013 she approached BKLWH for help. Her case has been reviewed and selected for the six months dialysis cost. Each of her dialysis costs Rs.1000 at B.K.L. Walawalkar Hospital. As per the nephrologist she has to carry out 10 dialyses per month, for which we pay Rs.10000 per month.
Geeta with the support of BKLWH has been able to continue her dialysis treatment. With the improvement in her health she is back on the work and hopes to live many more years ahead. If we keep on receiving donations constantly she will be relieved of stress of searching for other supporting organizations. Can we do that together?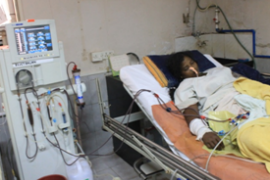 | Donation option | Break-up cost in INR |
| --- | --- |
| Fund to help dialysis patients with investigation test costs | 10,000 |
| Unit Price | 10,000 |
| Quantity | 1 |
| Total | 10,000 |

Programme
Amount
Donate
Healthcare
tax benefit : 50%
Rs. 10,000
Details
B.K.L. Walawalkar Hospital aims to subsidize dialysis and give financial assistance for transplantation, medication and investigation costs to the underprivileged with kidney disease.
How it Works
A Grant is given depending on the need of the patients. First patient is interviewed by the doctor who then refers the case to the Medical Social Worker Services.
MSW comprises of two units namely
a) Concession and
b) Fundraising.
The Concession Unit does a background check of the parent, analyzes their socio-economic condition, accordingly prepares a report recommending fundraising which is forwarded to the BKLWH management.
The Fundraising Unit develops the child's profile, prepares an appeal to be posted on the internet
BKLWH ascertains eligibility of the patient with the help of documents such as ration card, letter from doctor prescribing investigation.