Ramesh Gamare, a farm labourer earns little to support his family of six which includes his wife and daughter. His wife delivered a female child prematurely who miraculously survived without ventilator support for a week even with a birth weight of only 900 Gms.
The father of the child was keen on saving his daughter though his extended family members advised him to cease the treatment for his daughter. But Ramesh was firm; the gender of his child did not inhibit his feelings, quite a rare scene in the society where male child preference does not need any evidence. The hospital authorities decided to treat the child free of cost considering the good prognosis the child had. The child was put on ventilator for 80 days in NICU, till she gained a weight of 2 kg and was declared normal to survive without medical supervision. The precious life of a Girl child could be saved through the generous donations received from the donors. The girl now lives with her parents and her elder sisters at home. The father comes to the hospital for medical guidance from the doctors.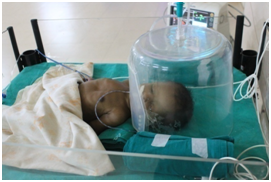 | Donation option | Break-up cost in INR |
| --- | --- |
| Contributing to a fund to sponsor intensive care for low weight babies | 10,000 |
| Unit Price | 10,000 |
| Quantity | 1 |
| Total | 10,000 |

Programme
Amount
Donate
Healthcare
tax benefit : 50%
Rs. 10000
Details
B.K.L. Walawalkar Hospital has neonatal intensive care facilities for babies born underweight.
How It Works
Poor and needy parents of such children who approach BKLWH for the child's treatment are first interviewed by the doctor who then refers the case to the Medical Social Worker Services.
MSW comprises of two units namely a) Concession and b) Fundraising.
The Concession Unit does a background check of the parent, analyzes their socio-economic condition, accordingly prepares a report recommending fundraising which is forwarded to the BKLWH management.
The Fundraising Unit develops the child's profile, prepares an appeal to be posted on the internet.