OUT PATIENT DEPARTMENT (Facilities available in Out-patient department)
Examination Room
4
Demonstration Room
1
Dressing Room (Male & Female)
2
Minor OT
1
INDOOR PATIENT DEPARTMENT (Ward Facilities)
Examination/ Treatment Room
3
Nursing Station
3
Demo Room
3
Doctor / Students Duty Room
3
Store Room
3
Pantry
3
Surgery OPD
Laparoscopic Surgery
A team of Laparoscopic surgeons are regularly visiting from Pune & performing the Laparoscopic surgeries. Diagnostic laparoscopy, Laparoscopic assisted vaginal hysterectomy, Laparoscopic cholecystectomy, Laparoscopic intestinal resection, Laparoscopic tubule ligation, Laparoscopic hornitomy, & Laparoscopic appendicectomy, are performed.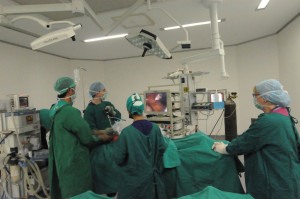 Urology
The hot and humid weather of Konkan coupled with shortage of potable water and high content of minerals in water lead to an increased incidence of kidney-stone among the population. Further these kidney-stones if not treated in time can even damage the kidneys. The hospital established the Urosurgery dept. to treat the poor population of Konkan and especially the youth on whose shoulders there is always a large responsibility. Specialist doctors & state-of-the-art treatment has led to quick recovery for patients. Patients are brought to the hospital from nearby villages & sonography is conducted for free leading to early detection of kidney stones. For conducting a surgery with endoscope (minimally invasive), a range of equipment such as Cystoscope, Ureteroscopy, Nephroscope, Image Intensifier etc. has been made available.These facilities being available at nominal costs, it has saved the lives of a number of young patients.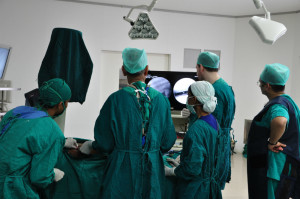 Paediatric Surgery
Congenital duodenal atresia, congenital diaphragmatic hernia, imperforated anus, congenital hernia, hydroeula, etc. cases are operated successfully.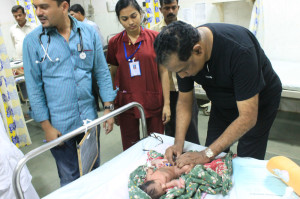 Plastic Surgery
Plastic surgeries for Cleft lip & Cleft Palate patients are done free of cost. Cleft lip & Cleft palate cases require operations in two to three stages. Up till now 100 cases of Cleft lip & Cleft palate are operated free of cost.