Bhagirthi Bavdhane, 30 years age widow, is an underprivileged and impoverished mother with two children residing in the remote village of Phurus. Bhagirthi struggled to support her family and send her children to school. Her very insecure source of income was earned from seasonal daily waged labour, occasionally supplemented by the agricultural labour of her elderly father.
Through the sponsorship support of VJCT's REACH programme assisted Bhagirthi to purchase Goat. The value of the Goat farming was Rs 22,000 (4 Female & 1 Male). Of this amount, Rs 12,000 was sponsored. From her savings Bhagirthi contributed Rs10,000. An insurance policy was also organized for the animals.
Bhagirthi now earns Rs 48,000 per year through selling Goats. After deducting her expenses, her monthly net income is Rs. 3500 - 4000.This is double than what she received previously through irregular daily agricultural labour earnings Bhagirthi is now able to feed her children adequately and allow them to attend school.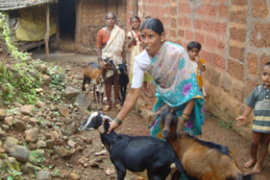 | Donation option | Break-up cost in INR |
| --- | --- |
| Towards purchase of items for petty shop or part fund the cost of buying a buffalo (through cheque) | 10000 |
| Unit Price | 10000 |
| Quantity | 1 |
| Total | 10000 |

Programme
Amount
Donate
Healthcare
tax benefit : 50%
Rs. 10000
Details
"Rural Empowement and Community Health (REACH)" is established for the welfare of the community without the distinction of caste, creed, religion, race or other limiting considerations, for the betterment of the poor by rendering holistic services in order to make people aware of their rights and duties as well as to develop leadership so that they can inculcate the values of truth, justice, equality, love, co-operation and brotherhood, so that they shall be liberated from social evils like casteism, communalism etc.
There are many widows who live in the rural areas are extremely poor. B.K.L. Walawalkar Hospital helps such widows purchase livestock (a goat, cow or a buffalo) through their programme REACH.
How it Works
These animals provide a small income for the widowed woman to carry on day-to-day.
A Grant is given depending on the need of the widow and the livestock she wishes to purchase.
The widow puts an equal share of the money in the purchase and also pays for the insurance of the livestock.
In 2014-15, the programme was extended to include other needy women.
The scope of the grant was also increased beyond buying livestock.
Women could purchase items to set up a petty shop in their village as an income generation activity.