Sangeeta Vasant Bagave a resident of Uktad village at Ratnagiri District was married at her early age. Pursuing the social chronology she desired to conceive and start her family. Unfortunately, due to some internal malfunctioning in her physique, she could not carry her pregnancy for long and had 8 induced abortions. In these years of her marriage they have spent their fortune on her treatment. Succumbing to the social and familial pressures she had 9th pregnancy where she lost her 3 day young female child. Succumbing to the familial and social pressures she went against medical advice and conceived for the 10th time, with no money to back up her ante natal care, she was referred to our hospital ill, mentally and emotionally sick.
Treating Sangeeta was not easy since the medical history was very critical. The Gynecologist of our hospital put her on conservative treatment from the day she was referred to our hospital. She was admitted in the hospital twice for 77 days, till she delivered a healthy male child on 19/02/2015. The hospital waived off a part of her treatment cost considering the economic pressures they have been into in the past years.
The couple is very happy after having a healthy child, especially the mother who has encountered multiple familial and social hurdles, keeps apart the health issues. Sangeeta is recovering steadily after taking lengthy medical care and her husband too is completely concerned about his wife is health now. Not much needs to be said about their feelings, as the happiness is apparent when the couple is seen regular for the monthly medical follow up of the wife. Our achievement is not actually in treating her clinically, but in enabling her to live a happy life with contentment.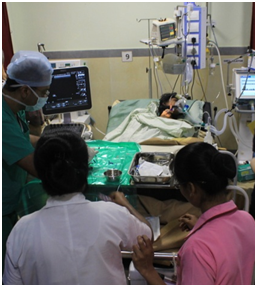 | Donation option | Break-up cost in INR |
| --- | --- |
| Towards fund to pay for complicated deliveries requiring blood transfusion | 10,000 |
| Unit Price | 10,000 |
| Quantity | 1 |
| Total | 10,000 |

Programme
Amount
Donate
Healthcare
tax benefit : 50%
Rs. 10,000
Details
This donation is for a woman who has had a complicated delivery procedure requiring blood transfusion at the Gynecology department at B.K.L. Walawalkar Hospital, Dervan
How It Works
Parents of such children who approach BKLWH for the child's treatment are first interviewed by the doctor who then refers the case to the Medical Social Worker Services.
MSW comprises of two units namely a) Concession and b) Fundraising.
The Concession Unit does a background check of the parent, analyzes their socio-economic condition, accordingly prepares a report recommending fundraising which is forwarded to the BKLWH management.
The Fundraising Unit develops the child's profile, prepares an appeal to be posted on the internet.