Genesis of the programme
Mandate of Tata Memorial Hospital to extent its Cancer Control and Prevention services to the rural areas for the benefit of the underserved population.
TMH has devoted considerable time and resources towards development of simple cost effective technologies for the early detection of common cancers.
Thus the aim was to develop a model service programme in the form of a "District Cancer Control Programme" to demonstrate a successful workable model which can be translated in other parts of the country as well as can be integrated in the general Health Care Infrastructure of the country.
Konkan belt (Ratnagiri & Sindhudurg )was chosen as it was the most under served in terms of cancer care and prevention facilities. Also more approachable for regular monitoring and surveillance activities.
Goals
Awareness and education – tobacco, breast and cervix cancers
Screening – Breast and cervix cancers (women); oral (men and women)
Treatment – screening detected cases
Population Based Cancer Registry
Funding Source: DAE 10th and 11th Plan
Time Frame: April 1, 2002 till March 1, 2012
The Tata Memorial Centre commissioned the Model Rural Cancer Control Program in Ratnagiri and Sindhudurg districts of Maharashtra under the DAE Xth plan projects, on 17th August 2003
Konkan Region
The cancer load - Much is being done, but much has to continue to be done.
Konkan region - inadequate government facilities, illiteracy, poverty, poor health awareness, misconceptions due to blind faith and inaccessibility with scare transportation services
The population - belongs to socio-economically disadvantaged group
Availing medical care in cities remains largely unaffordable
Important Challenges in Oncology
Cancer kills in more than one ways!
Modern cancer therapy has become very expensive and in-accessible, and many times can disrupt or ruin the whole family.
Conquer cancer through knowledge: Scientific Knowledge & Social Knowledge!
Develop affordable and effective therapies for patients with cancer.
Details of work/Programme
The cancer load is likely to increase in spite of dramatic advances made in the last six decades in therapy and in understanding cancer. Much is being done, but much has to continue to be done.
A large number of dedicated professionals from Walawalkar Hospital and Tata Hospital have put their efforts for cancer prevention, early detection and the treatment of the poor people through various projects, namely
Rural Outreach Programme
Ca Hypopharynx & Esophagus Screening Trial
Rural Cancer Registry
Tata Memorial Center – Mumbai, in collaboration with B. K. L. Walawalkar Hospital at Dervan started a Model Rural Cancer Control Programme (Tata Memorial Center Rural Outreach Programme–TMCROP) from September 2003 to December 2012 for Ratnagiri & Sindhudurg districts of Konkan Area.
A systematic programme for early detection of common cancers namely breast, cervix and oral cancers was initiated by Tata Memorial Hospital, Mumbai in the year 2003, in collaboration with B. K. L. Walawalkar Hospital. The aim is to cover the entire eligible population of the two districts with cancer awareness education, screening and treatment.
Under this project, Oral Malignancy, Ca Breast and Ca Cervix cases and Ca Hypo pharynx and Esophagus are treated free of cost at B. K. L. Walawalkar Hospital, Dervan.
Consultants & surgeons from Tata Memorial Hospital are visiting our hospital regularly on every 3rd Friday, Saturday and Sunday of every month.
All types of Examinations, Investigations, Surgeries, and Chemotherapy are done at B. K. L. Walawalkar hospital free of cost.
Radiation therapy unit have been installed in hospital where Radiations also are given free of cost at earliest.
The institute has "Telemedicine" facility by which the patients are consulted with TMH doctors regularly. (Live video conferencing via satellite)
The project is implemented in systematic four stages.
Household Survey: Door to door visits to households of all villages to collect information about Tobacco users (M/F) and Female with 35-60 years of age group who are then subsequently called for screening camps.
Health Awareness Sessions: To create awareness about Cancer disease.
Screening Camp: Preliminary examinations are done by conducting Screening Camps in each village.
Definitive Treatment: Detected cases are treated under this project.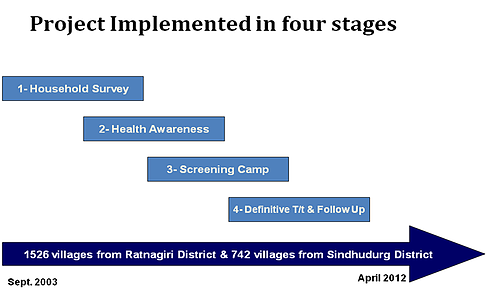 METHODOLOGY
Project undertakes systematic cancer awareness and screening activities in the entire populations of these districts through mobile education-cum-screening units (MESUs).
The screening positive cases receive confirmation of diagnosis at their village through mobile first referral level units (FRLUs).
Walavalkar hospital located at Dervan village, Chiplun tehsil in Ratnagiri district is the base hospital for the project, and the screen detected cases are provided treatment at the hospital, by consultants from Tata Memorial Hospital, who visit once a month.
Consultants from the Walavalkar hospitalare also trained during the project to enable them to treat cancer cases.
A cancer registry will keep an account of the cancer morbidity and mortality in the region.