Cancer centre at B.K.L. Walawalkar Hospital since, inception has treated over 5000 patients with radiation. These are patients with head and neck cancer, Gynaec cancers and breast cancers. Other common cancers include Lung cancers, brain tumors, cancers in children and cancer of the digestive tract. The Centre receives patients from all strata of the society, many who could not have pursued the expensive treatment of cancer unless they did not receive subsidized or free treatment offered here. The Centre, with access to state- of- the- art multidisciplinary cancer care at affordable or no cost and a range of experienced and compassionate experts of cancer care givers has evolved as a shelter to the needy victims of the disease.
Suresh Sawant is 28 year old youth staying at Kudal Ta- Sindhudurg, suffered from Larynx cancer. His father expired long back and his mother is a daily wager working as a farm labourer. Suresh was the only income generator in the family but unfortunately he is suffering from cancer at early age. Now he requires Radiation and Chemotherapy for a year. The approx. cost of treatment was Rs 1 Lac. Considering their financial condition and the prognosis of the child, the hospital has taken complete responsibility for his treating
Fortunately he has been diagnosed in early stage and he may survive if complete the treatment.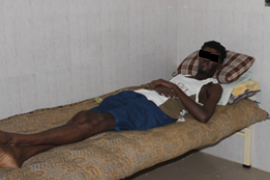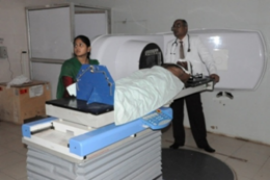 | Donation option | Break-up cost in INR |
| --- | --- |
| Cost of 1 session of Radiation therapy | 1500 |
| Unit Price | 1500 |
| Quantity | 1 |
| Total | 1500 |

Programme
Amount
Donate
Healthcare
tax benefit : 50%
Rs. 1500
Details
B.K.L. Walawalkar Hospital receives and treats hundreds of cancer patients every month. Many of these patients are from weaker economic groups unable to afford the treatment that they need. The hospital today is one of the largest and well equipped with only radiation facility in Konkan region of Maharashtra State.
Statistics
1 – Number of radiation sessions that are conducted per day for 1 patient on a daily basis excluding weekends and holidays.
25 – Average number of radiation sessions conducted for 1 patient
How It Works
A Grant is given depending on the need of the patients. First patient is interviewed by the doctor who then refers the case to the Medical Social Worker Services.
MSW comprises of two units namely
a) Concession and
b) Fundraising.
The Concession Unit does a background check of the parent, analyzes their socio-economic condition, accordingly prepares a report recommending fundraising which is forwarded to the BKLWH management.
The Fundraising Unit develops the child's profile, prepares an appeal to be posted on the internet
BKLWH ascertains eligibility of the patient with the help of documents such as ration card, letter from doctor prescribing investigation.