Abdul Gafur Khan, 60 years a resident of village Akuskhan nagar from Chiplun Taluka was diagnosed with Left Pyriform Fossa before six months. He resorted to our hospital after taking elaborate treatment for 6 months from local doctors as well as quacks. A farm labourer by occupation, and a contributing member to support a family of 12, Abdul, a chain smoker was not in a position to afford Chemotherapy and Radiation Therapy for his treatment. He preferred relenting to destiny for his life with this dreaded disease rather than pursuing the expensive treatment of cancer.
Medical Social Worker Services department assessed the socio-economic condition of the patient and persuaded him to follow the treatment promising him, that a major par to his treatment charges would be borne by the hospital and he shall have to spend a minimal token amount. Abdul was ready then to take the treatment. Hospital raised funds through their charity trust. Abdul Khan has been given Chemotherapy on July 8, 2012 and Radiation Therapy on June 26, 2012 and he is on a follow up treatment now. He has stopped consuming tobacco and has shifted to a healthy diet. As a result he is able to carry out his heavy work of farm laborer and contribute to family income. A very happy and spirited person Abdul Gafur is a source of motivation to other cancer victims of our hospital and his community also.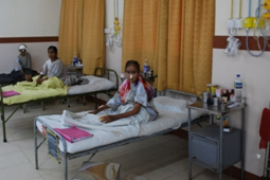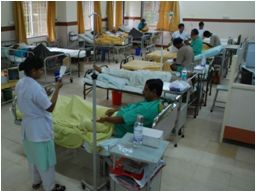 | Donation option | Break-up cost in INR |
| --- | --- |
| 6 Cycles of chemotherapy | 15,000 |
| Unit Price | 15,000 |
| Quantity | 1 |
| Total | 15,000 |

Programme
Amount
Donate
Healthcare
tax benefit : 50%
Rs. 15,000
Details
BKLWH reaches out to poor people (especially in rural areas) where it is difficult for patients to come over to the hospital due to lack of transportation.
How it works
With reference to Cancer & Cardiac patients or accident victims at BKLWH, the following process is followed: after complete diagnosis, the concerned patient approaches the doctor who can help him/her find a donor who could support the treatment cost.
Parents of such children who approach BKLWH for the child's treatment are first interviewed by the doctor who then refers the case to the Medical Social Worker Services.
MSW comprises of two units namely a) Concession and b) Fundraising.
The Concession Unit does a background check of the parent, analyzes their socio-economic condition, accordingly prepares a report recommending fundraising which is forwarded to the BKLWH management.
The Fundraising Unit develops the child's profile, prepares an appeal to be posted on the internet.