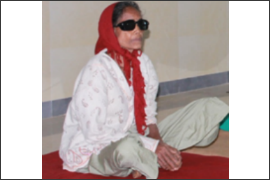 | Donation option | Break-up cost in INR |
| --- | --- |
| Staff Salary and Establishment Exp Cost of Medicine, IOL and consumables, Admin expenses | 2200 |
| Unit Price | 2200 |
| Quantity | 1 |
| Total | 2200 |

Programme
Amount
Donate
Healthcare
tax benefit : 50%
Rs. 2200
Details
Rural elderly poor have little or no access to eye care facilities that are by and large available only in urban centers. Often suffering from easily treatable ailments, such as cataract, they are forced to live a life dependent upon their sighted kin. The hospital aims at providing these services to the elderly, thus empowering them to lead an independent life.
How It Works
The hospital's community department's staff with a team including Medical & Paramedic staff, field workers, Coordinator/Counselor and Medical Officer visit the campsite on prefixed dates, as advertised before the camp.
People attending the camps are screened for refractive error, cataract, glaucoma, and other ocular diseases.
Patients selected for surgery are examined for diabetes and hypertension.
Those requiring spectacles are refracted and spectacles are dispensed at nominal cost.
Patients identified for surgery are brought in ambulances to the base hospital.
A detailed examination and investigation are conducted.
Surgery is performed the next day and on the third day, first postoperative examination is done.
Patients found fit are discharged and sent back by ambulance.
Their stay, food, medicines, transportation and surgery is provided free of cost.
Weekly visits are made to the camps sites for follow-up of operated patients.
Fresh cases are examined and picked up for surgery.