Suyog was admitted to our school with educational scholarship. He hails from a very poor family where his father was a daily wage labourer and two more children to look after. Unfortunately his father was alcohol addict and was unable to pay attention to his wife and children. The mother could not go for any job as the youngest child was 3 months old. She became sick owing to the sorrowful situation and this poor boy was forced to be at home to look after his siblings. His education was also a question mark.
We came to know about the plight of the family and asked his mother to come to school and we promise her that all the help would be given so that the child studies will not be affected. His sister will also be admitted in our school without paying any fees. Now this boy is given full education scholarship. It means the mother need not pay any money for school, transport, meal etc.
Now both the children are coming to our school and studying well also. Suyog is in 3rd grade. Their mother told this with tears in her eyes, I will always be grateful to Vithalrao Joshi Charities Trust. When everyone including my relatives neglected me, only Trust cared for me and my children and their future is safe at their hands.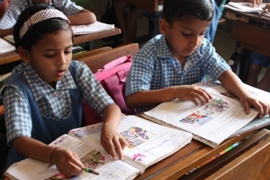 | Donation option | Break-up cost in INR |
| --- | --- |
| Nutritious Ladoos – 6 Kgs (Rs. 290 per kg) and dry / seasonal fruits (Rs.60) | 2110 |
| Salaries (Teachers/ School Leaders /Principal / Head Teacher) | 10620 |
| Educational Expenses school supplies/ teaching materials | 820 |
| Art material, events and supervision | 2030 |
| Operations | 530 |
| School Support | 4000 |
| Unit Price | 15000 |
| Quantity | 1 |
| Total | 15000 |

Programme
Amount
Donate
Healthcare
tax benefit : 50%
Rs. 15000
Details
Shri Vithalrao Joshi Charitable Trust works to impact the lives of children from low-income communities, enabling them to maximize their potential and transform their lives. The organization provides education by initiating school reform through charity. Kids are enrolled in school are from 2.5 years onwards (Nursery, Kids garden, Primary, Secondary School & Jr. College). VJCT began English medium school in a rural backward area with a simple idea: to give less privileged children a place where they could come and enjoy their childhood. Currently, the organization sponsors over 40 poor children every year. With the formal school dropout rate of enrolled poor children is decreased, thus the organization is clearly making an impact.