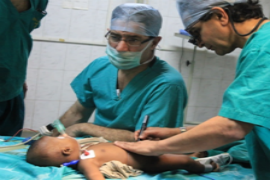 | Donation option | Break-up cost in INR |
| --- | --- |
| Pre-op and post-op care at our ward (Including Doctor fee, nursing staff, physiotherapist etc, lab tests, ambulance expenses) | 8000.00 |
| Stay (Including food, medical, tools & joints) | 2000.00 |
| Unit Price | 10000 |
| Quantity | 1 |
| Total | 10000 |

Programme
Amount
Donate
Healthcare
tax benefit : 50%
Rs. 10000
Details
BKLWH provides a complete range of rehabilitation services to children from poor families, The services include surgery, physiotherapy, fitment of aids and appliances and vocational training. These services are available under one roof and are virtually free for the children.
Our outreach camps are held in villages and from here too children are referred for physiotherapy, or called for orthopedic surgery.
Some are given wheelchairs/walkers or orthotic aids as appropriate, to facilitate their mobility.
The surgeries performed include minor, major and specialized ones, in single or multiple stages.
Children requiring surgery are admitted into the wards for pre-surgery tests and for post-operative recovery and follow-up treatment, including physiotherapy and occupational therapy and counseling.
Surgeons conduct regular rounds of the wards to monitor the recuperation of these patients.
This donation will be used for such a surgery.
Medical Social Worker Services department have a list of patients waiting for surgeries at any given point of time. So if additional funds are brought, they can increase the number of surgeries.