My name is Anant Shivade and I have a family history of congenital retinal problems. My mother is having sleepless nights worrying about our future; she does not want her children to suffer what she had suffered in her life. People tease us, laugh at us and make fun whenever we all go out together. We feel sad and neglected by the society.
Doctor of BKLW Hospital says that surgeries of both my brother & my eyes will help us to get good vision, also I will get rid of fat spectacles and enjoy a better life. My father is a farmer; his earning is not sufficient to afford our treatment cost.
Thank you Donor for supporting towards both our surgery cost.
Glaucoma is a disease of the eye in which fluid pressure within the eye rises. If left untreated, the patient may lose vision and even become blind. The disease generally affects both eyes, although one may have more severe signs and symptoms than the other.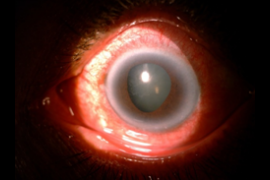 | Donation option | break-up cost in INR |
| --- | --- |
| Transport/camp/food & stay | 1100 |
| Consumables | 9900 |
| General Anesthesia (GA) | 2500 |
| Follow-up check (up to 6 months) | 2000 |
| Unit Price | 15,500 |
| Quantity | 1 |
| Total | 15,500 |

Programme
Amount
Donate
Healthcare
tax benefit : 50%
Rs. 15500
Details
B.K.L. Walawalkar Hospital is considered to be one of the best Eye care providers in rural Konkan region of Maharashtra. We are thankful to donors in partnering their cause and giving sight / hearing to thousands of less privileged people.
How it Works
Poor and needy parents of such children who approach BKLWH for the child's treatment are first interviewed by the doctor who then refers the case to the Medical Social Worker Services.
MSW comprises of two units namely a) Concession and b) Fundraising.
The Concession Unit does a background check of the parent, analyzes their socio-economic condition, accordingly prepares a report recommending fundraising which is forwarded to the BKLWH management.
The Fundraising Unit develops the child's profile, prepares an appeal to be posted on the internet.