A systematic program for early detection of common cancers namely breast, cervix and oral cancers was initiated by Tata Memorial Hospital, Mumbai in the year 2003, in collaboration with B. K. L. Walawalkar Hospital. The aim is to cover the entire eligible population of the two districts with cancer awareness education, screening and treatment.
Under this project, Oral Malignancy, Ca Breast and Ca Cervix cases and Ca Hypo pharynx and Esophagus are treated free of cost at B. K. L. Walawalkar Hospital, Dervan.
Consultants & surgeons from Tata Memorial Hospital are visiting our hospital regularly on every 3rd Friday, Saturday and Sunday of every month.
All types of Examinations, Investigations, Surgeries, and Chemotherapy are done at B. K. L. Walawalkar hospital free of cost.
Radiation therapy unit have been installed in hospital where Radiations also are given free of cost at earliest.
The institute has "Telemedicine" facility by which the patients are consulted with TMH doctors regularly. (Live video conferencing via satellite)
The hospital firmly believes that cancer patients need psychological and emotional help along with treatment. We take care of these aspects with the help from our doctors, well-trained nurses and medical social workers.
Radiotherapy Department
The radiotherapy department at B.K.L.Walawalkar Hospital provides a complete cancer care under same roof with the state of art technology, providing a great relief to cancer patients of Konkan area.
Radiotherapy department of B.K.L.Walawalkar Hospital have following facilities:
Teletherapy
Brachytherapy
C.T Simulator
Teletherapy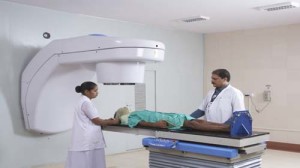 Make and Model:-Bhabhatron-II
Radioisotope used: - CO-60
Type of radiations: - Gamma
Energy : - 1.25 MeV
Here the source is placed at a particular distance from the surface of the patient or from the centre of the tumor.(ie.isocentre).
Doubly encapsulated source of CO-60 (dimensions: 2cm dia, 3cm long) is placed inside the treatment of the unit, which is made up of tons of lead or depleted Uranium. During the treatment the source will come into the 'ON' position with the help of shutter mechanism, and after the treatment it will returns to the safe position. It can be used for ALL TYPES OF CANCERS.
High Dose Rate Brachytherapy (HDRBT)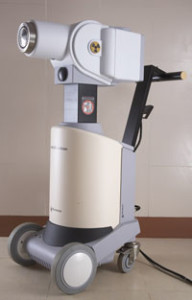 Make and Model:-Nucletron Microselectron HDR remote afterloader
Radioisotope used:- Ir-192
Type of radiations: - Beta
It is a procedure of placing radioactive material near or inside the diseased tissue as means to administer high doses of radiation. The primary advantage of internal radiation placed within the tumor is its ability to deliver a high radiation dose to the tumour, while limiting the radiation that the normal tissue receives.
Here a single tiny source of size 1mm×3mm is laser welded to the end of a thin flexible stainless steel cable. This source is housed in a device called remote after loader. The computer guided after loader directs the source through a 'transfer tube' into the treatment catheter/applicator that has been placed in the patient by radiation Oncologist.
Types of Brachytherapy implants
Based on the location .tumor extend and other factors, Radiation Oncologist will decide which type of implant the patient requires.
These are of three types.
1. Intracavitary
Here the applicator is inserted in to a body cavity to reach the tomour.Local anesthesia/conscious sedation is all that required.
Mainly used for GYNACOLOGICAL TUMOURS.
2. Intraluminal
Here the catheters are inserted in to a 'tube' such as bronchus, esophagus, or bile duct. Patient is treated as an out patient basis.
Mainly used for LUNGS AND ESOPHAGIAL CANCERS.
3. Interstitial Implant
These are more complex procedure. The implants are done at the O.T with the patient under general anesthesia. Interstitial catheters are inserted through the body tissue to encompass the tumor.
Mainly used for BREAST, PROSTATE AND GYNACOLOGICAL TUMOURS
C.T Simulator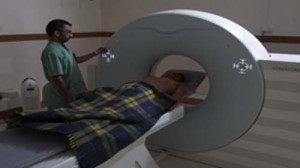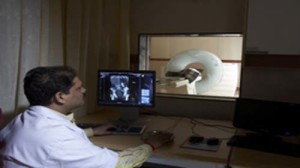 Make and Model:-Siemens SOMATOM Spirit power
An X-ray machine called 'Simulator' is used to plan radiotherapy treatment. It is called a simulator because it is like (simulates) a radiotherapy machine, but does not give the treatment. Simulation is a planning procedure used to determine the type of fields, energy of the beam, and angles of radiation beam.
With the help of C.T.simulator Konkan people will have proper treatment planning which they would get at TMH or other centers.
Mammography Unit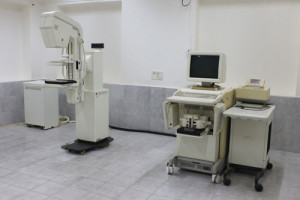 Department Of Onco-Surgery
Surgery is the mainstay of treatment for solid tumors and surgeon plays a leading role in the decision making of the treatment of these solid tumors. Cancer surgery is a complex and highly skilled discipline requiring detailed knowledge of anatomy, physiology, and reconstructive procedures. Recognizing this fact, this hospital has given a strong emphasis on surgical discipline. To provide state of the art care to these patients, the hospital has a team of three qualified, highly skilled and competent surgeons, all of them having experience of working in various prestigious institutes of India like Tata Memorial Hospital, Mumbai.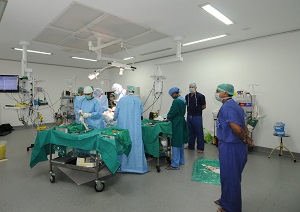 The surgeons are well trained in different subspecialties of oncosurgery that includes head and neck, breast, thoracic surgery, gastrointestinal surgery, soft tissue surgeries, and gynecologic oncology. The department has two part- time consultants, a plastic surgeon and an orthopedic surgeon, to assist in different reconstruction procedures and bone tumors surgeries. The neurosurgeon and the urologist are on the hospital panel and are readily available for any neurosurgical and urological procedures.
The department is well supported by modern equipments, Operation Theatre and ICU. The department also has an endoscopy setup and facilities for upper GI Endoscopy, Colonoscopy, Bronchoscopy, and Laryngoscopy are available. The surgeons are trained in flexible endoscopy and are assisted by medical gastroenterologist as and when additional help is required.
The department is performing all types of breast surgery , different head and neck surgery like commando operation, laryngeoctomy, , thyroid and parathyroid surgeries, salivary glands tumor surgery; all Gastrointestinal Surgeries like esophagectomy, gastrectomy, pancreaticoduodenectomy, hemicolectomy and low anterior resections, gynecological surgeries like Wertheim's operation, ovarian cancer surgeries; thoracic surgeries like chest wall resection and various soft tissue sarcoma surgeries with reconstruction including microvascular surgery routinely.
Operation Theatres:
The hospital has five major and one minor operation theater. The Operation Theatres are equipped with all the modern facilities and equipments including latest Anesthesia Administering Machines, Remote Controlled Operation Table, Shadowless Lamps, imported Electric Cautery, Invasive and Non-invasive Monitors, Ventilator, one Operating Microscope, Micromotor with saw, mandibular plating reconstruction set and many other sophisticated instruments and equipments.
Department of Medical Oncology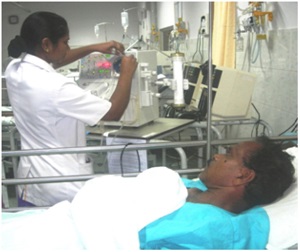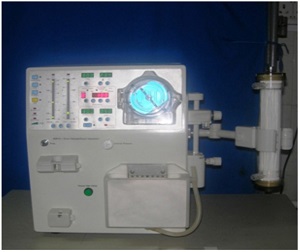 BKL Walawalkar Hospital has got a separate Medical Oncology Department where Chemotherapy is administered as per standard as well as locally developed protocols. Chemotherapy is the administration of cytotoxic drugs and more recently biologicals to destroy the cancer cells. It is one of the multi- disciplinary approaches for the treatment of cancers and has become the mainstay of treatment for almost all malignancies especially in Leukemias (Blood Cancer), Lymphomas, Germ cell tumor and Choriocarcinoma, Cancer Breast and Ovary to name a few. The department on a regular basis gives high dose chemotherapy as per the requirements.
A competent Medical Oncologist having the rare degree of D.M. is visiting faculty from Tata Memorial Hospital of this important department. He is assisted by a team of Medical Officers intensively trained at Tata Memorial Hospital. The dedicated team works for twenty four hours taking care of all cancer patients and all chemotherapy related complications. Medical oncology is ably supported by the pathology, radiology, radiation oncology, surgical oncology, blood transfusion, ICU and other departments.
Department of Radio Diagnosis & Interventional Radiology
Interventional procedures including diagnostic procedures like USG or CT Guided aspiration/ Biopsy are being performed routinely. Transvaginal biopsy of pelvic masses and transrectal biopsy of prostate are also performed.
Therapeutic procedures like drainage of fluid collections or abscess and celiac plexus block are being performed.