Siddhi Ghanekar's family, from Sangameshwar village in Ratnagiri district of Maharashtra, encountered cleft for the first time when their daughter was born with cleft lip. A daily-wage earner, her father saved money and brought Siddhi to Walawalkar hospital first when she was 2. The first time she was rejected due to low hemoglobin count. The family abandoned hope after this.
B.K.L. Walawalkar hospital staff visited Siddhi's family in July 2012 when she was 6 years old. Siddhi encouraged her family to take her to the camp where she was examined and found fit for a surgery. This was performed completely free of cost to the incredulous and grateful family.
Siddhi's broken smile was completed and healed through the surgery at BKLWH and after 4 years of waiting, this little girl is able to play and spend her childhood normally with other children her age. As the family was leaving hospital her father approached the doctors and nurses and said, Not only have you given my beloved daughter a beautiful smile but also you have given me the chance to look at her face without a constant guilt in the back of my mind.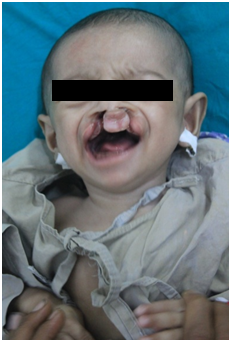 | Donation option | break-up cost in INR |
| --- | --- |
| Surgery Cost | 5000 |
| Intraocular Lens | 5000 |
| Medicines | 5000 |
| Unit Price | 15,000 |
| Quantity | 1 |
| Total | 15,000 |

Programme
Amount
Donate
Healthcare
tax benefit : 50%
Rs. 15000
Details
Missions have been the flagship model for some notable projects globally and in India. However after doing missions for several years, Most of the funding agencies are unable to provide long term comprehensive care to patients. They were also turning away a lot of cases - people whom they could not help on mission- because they did not have the available resources, or because it was not safe to operate on them in a camp setting. B.K.L.W. H thus started to give concession to Cleft Lip & Cleft Palate patients and many poor patients are being treated free of cost.
How It Works
BKLHW has advanced facilities along with anesthetists and surgeons within hospital, where they operate on either all days or some days of the week.